Americans for Democracy and Human Rights in Bahrain
Intern: MacKenzie Lemunyan
Major: Political Science and Economics
Supervisor: Monica Zuraw, Advocacy Advocate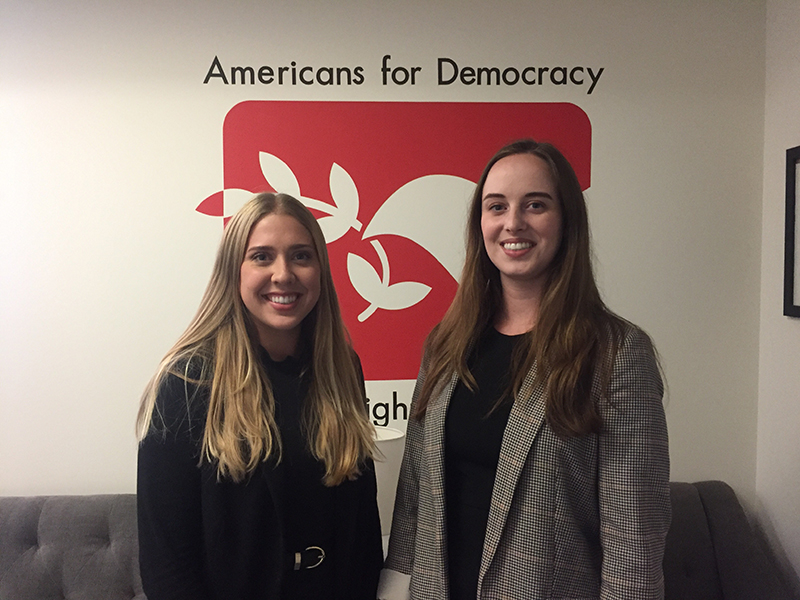 Ms. Zuraw, can you tell us a bit about Americans for Democracy and Human Rights in Bahrain?
Ms. Zuraw: [We've been in operation] since the early 2000s, and we've been in DC since 2011. We started in Alabama — there's actually a large Bahraini population there. We focus on human rights abuses in Bahrain, but also in other countries, like Saudi Arabia. 
MacKenzie, what is your position at ADHRB and what have been some of the most challenging and rewarding parts of working here?
MacKenzie: I'm an advocacy intern at ADHRB. The most challenging [part] was also the most rewarding — coming in, it was a little bit intimidating because we are working with smaller countries that I hadn't heard a lot about, but are really important with US security. It's really interesting to learn about, but it's something I hadn't focused on previously.
Ms. Zuraw, can you tell us about your position here at ADHRB?
Ms. Zuraw: I'm the Organizations Advocacy Associate and the Intern Coordinator as well. I actually started here as an intern. Since we're such a small organization, we have a lot of responsibilities in our roles. I do a lot of meetings on the Hill and inform them of human rights abuses in Bahrain and push them to sign letters or joint resolutions. There's a social media component as well.
How does this internship differ from what you initially expected?
MacKenzie: I don't think it had differed from what I expected. When I first saw the advertisement from the program, there was a really good list of bullet points outlining what I would be doing day to day. I had a really lengthy interview with Monica and she told me about the internship instead of the opposite way around — instead of having me do my own research on it.
What skills do you feel you've used the most or developed the most while you've been at ADHRB?
MacKenzie: I think I've utilized my research skills the most. Coming from UC Davis, we're a very research-heavy school and I've used those skills to the best I can in briefings and fact sheets. I've also developed my writing skills. Learning to adapt to a human rights organization has been a challenge, but I've been able to rise to it and learn in the process.
Ms. Zuraw, what skills do you look for in interns?
Ms. Zuraw: This internship is researching and writing heavy so having those skills is important. Anyone interested in learning more and trying new things. We don't expect people to know everything, so a willingness to learn and interest in our cause.
Do you have any advice for students who want to apply to internships at a similar organization?
MacKenzie: Be honest. In my interview, Monica asked me how familiar I was with Bahrain and the Middle East, and about my knowledge of the current situation in the region. Most of my knowledge had been from various political science classes where we talked about the Arab Spring as well as from other history courses. Being honest with my familiarity on the subject -saying, this is what I have to offer and while I may lack knowledge in this area, I am very excited to learn. 
Primary Category