United Nations Information Center
Intern: Karen Caspa
Major: Political Science
Organization: United Nations Information Center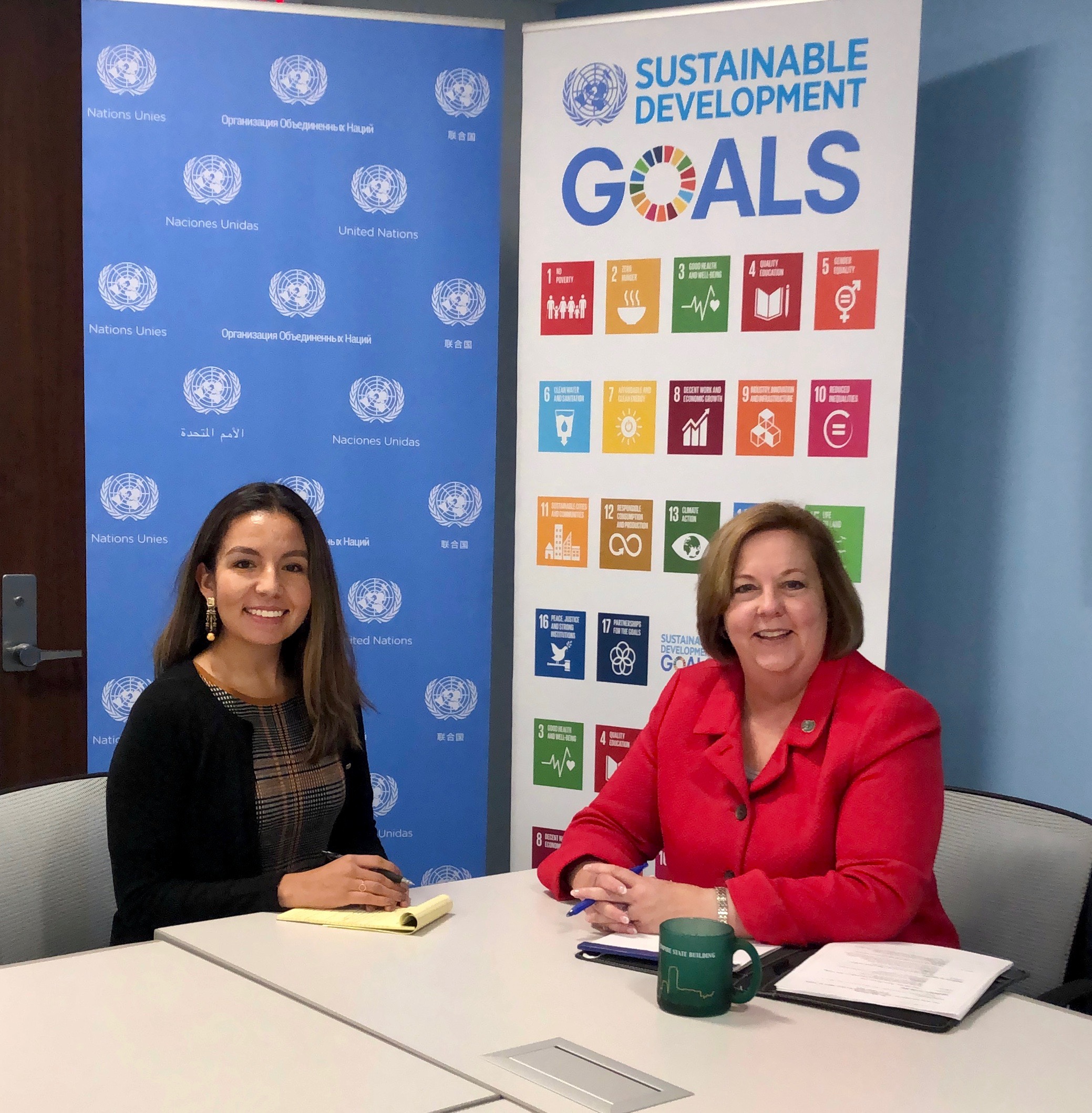 Can you tell us about the roles and responsibilities of your internship at this organization?
The United Nation Information Center is the primary liaison for the UN Secretariat (UNIC) falls under the UN Secretariat purview) and the United States government. This means
that all UN diplomats, from the Secretary-General of Peacekeeping to the Secretary-
General of Global Communications, come into contact with our office and we direct them
to their counterparts in the government or wherever they need to be in DC. This not only
helps each UN representative achieve their own agendas, but it also ensures that the
UN SDGs (Sustainable Development Goals) and UN goals are met. Given the proximity to the United Nations Headquarters, it is pivotal that I am up to date with world events and international developments, therefore I attend and represent our office at think tank forums and the Capitol/the Hill. As a collective, interns in the office organize weekly seminar series where Directors from various UN agencies in DC, come into our office and discuss their role.
How does this internship relate to your career aspirations? Has it informed your goals for the future?
I plan to go to law school and am quite interested in international law and cyber law. My experience at this office has given me the insight to understand the behind-the-scenes engagement between the United States government and the international community. It has not only exposed me to international organizations, but I have also come into contact with US agencies investing in humanitarian affairs.
What are some of the skills you've utilized and developed the most while being here?
A little bit of everything, if I'm honest. The UN has challenged me, I have honed my writing and research skills while writing bios and creating reports on events. Yet, I have also developed my interpersonal skills when giving report briefings in the office or when meeting diplomats. However, I would put more emphasis on the research aspect. There is so much to learn about the UN!
Can you tell us what your work has been like at this organization?
It has been great! Everyone in the office has been welcoming and eager to help where they can. I am kept busy and the staff is receptive to any new projects I may have. It has also been a dynamic internship, some days I spend most of my time in the office and other days I'm hardly in the office. Being at the UN has certainly changed my perspective on what the UN encapsulates and its role in society. It is a much larger organization than I had ever anticipated. The UN and its multiple agencies are everywhere, yet they are very cautious about their involvement in communities. There is a lot of background research and analysis that goes in before a peacekeeping operation or any team is sent to the field.
What kind of advice would you give someone looking for similar internship opportunities?
It's easy to become overwhelmed with internationally recognized organizations, like the United Nations, but that does not mean one should not apply. Do not let that scare you from applying, so apply! If the UN doesn't work for you, that's ok. Just know that the UN would not be possible if it weren't for the hundreds of organizations that also contribute to humanitarian efforts.
Do you like DC?
Absolutely. I could not be more satisfied with the Washington Program. It has allowed me to engage with the DC community. I've tried to make the most of my time and joined a running club (November Project) and even attended a gala! DC is a great city. Everyone is knowledgeable and, surprisingly, willing to lend a hand and give advice. It has been a wonderful experience and I anticipate myself returning in the near future.
Top three places to see/do in DC?

First, the African American Museum. It's dense content, but insightful! Second, sunrise at Lincoln Memorial - you have to wake up early for this, but it's well worth it. You can also go to November Project on Wednesday mornings and get a workout in while watching the sunrise! Third, Tryst in Adams Morgan - it's a cozy spot to read and do some homework.
Favorite place to eat?

 Duke's - their burger is exquisite 10/10.
Primary Category