Earth Day Network
Intern: Kit Nga Chou
Major: Environmental Science and Management
Organization: Earth Day Network (EDN)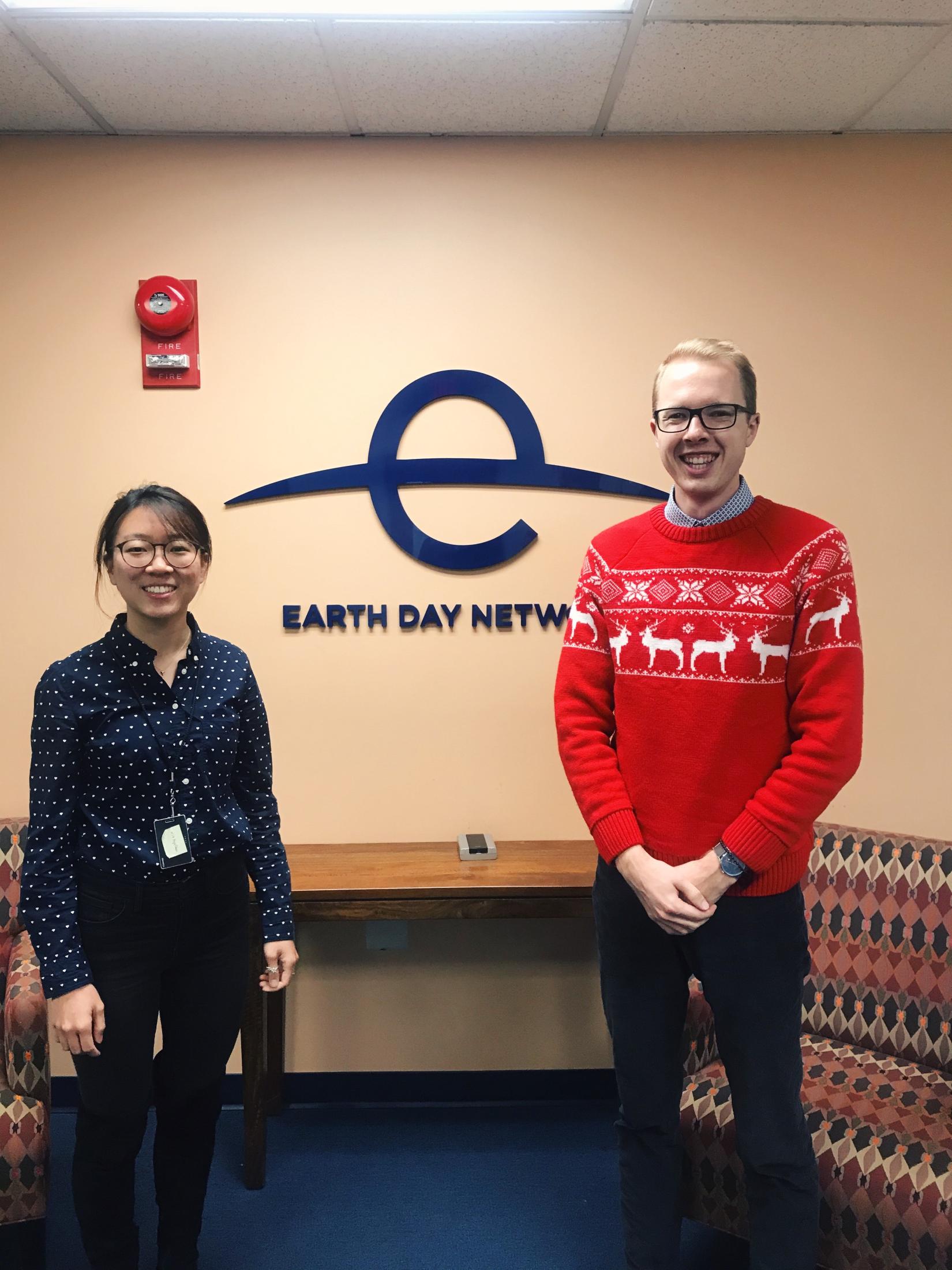 What are the organization's goals?

Supervisor: Earth Day Network's mission is to diversify, educate and activate the environmental movement worldwide. The mission is in our name: We build and engage a network of organizers, organizations and everyday citizens to advocate for a better environment. Our operations span most of the world – 192+ countries, tens of thousands of partner organizations, over a billion Earth Day participants, and a dedicated global team of staff, volunteers and of course interns. Earth Day is the world's largest civic event and environmental movement; Earth Day Network coordinates it.
How many interns do you usually have, and what kinds of skills does the organization look for in prospective interns?

Supervisor: We normally have around fifteen interns in our D.C. office with a few more around the world as needed. In busy seasons (the summer and anniversary years), that number jumps to about thirty terrific interns. Because of the breadth of our work, all skills are welcome. Interns may be translating volunteer materials for staff in Africa, cleaning databases before a big outreach push, or on the ground to set up an event or visit Capitol Hill. It's not always exciting but it certainly is rewarding. Above all, we look for a "can-do" attitude, willingness to learn, and a good sense of humor.
Can you tell us about the roles and responsibilities of your internship at this organization?
Kit:  EDN's interns have a lot of flexibility in what we want to do. It was very easy to approach staff members and discuss my interests. My role at EDN is mostly around the education side. I manage social media for our higher education outreach campaign – MobilizeU. I am also part of the EduCREW to develop new teach-in toolkits on climate issues for teachers and educators.
How does this internship relate to your career aspirations? Has it informed your goals for the future?
Kit: I have always wanted to work at an environmental non-profit organization after graduation, and EDN gives me insights on how this career will be like. This internship relates closely to my future goals of working in the environmental field, and it taught me the different paths I could take within the field.
What are some of the skills you've utilized and developed the most while being here?
Kit: I've developed skills in building databases and organizing information since I worked on a handful of outreach projects. I was also able to manage time better since I had to work on different projects at the same time. I've learned to prioritize tasks, actively communicate with project managers, and I became more comfortable voicing my professional opinions to staff.
Can you tell us what your work has been like at this organization?
Kit: Everyone at EDN is very friendly and welcoming. The organization is relatively small, with around 30 staff members. Therefore, it's very easy to talk to everyone and learn about their work and passion. All interns work together in the intern room. It was a relaxed work setting (yet always busy), and easy to seek assistance from fellow interns.
What kind of advice would you give someone looking for similar internship opportunities?
Kit: I would say always take the initiative and ask for opportunities to take roles in what you want to do. There are many approaches in the environmental field, always be open to try different things and discover what you want to focus on. Maximize your intern experience in DC since a quarter is really short!
Do you like DC?
Kit: DC is very different than Davis. There are constantly events happening in the city. I took the advantage to visit free museums and attend engaging seminars/ events. I was also able to reach out to professionals in the city through LinkedIn and chat about their career trajectories.
Primary Category
Tags