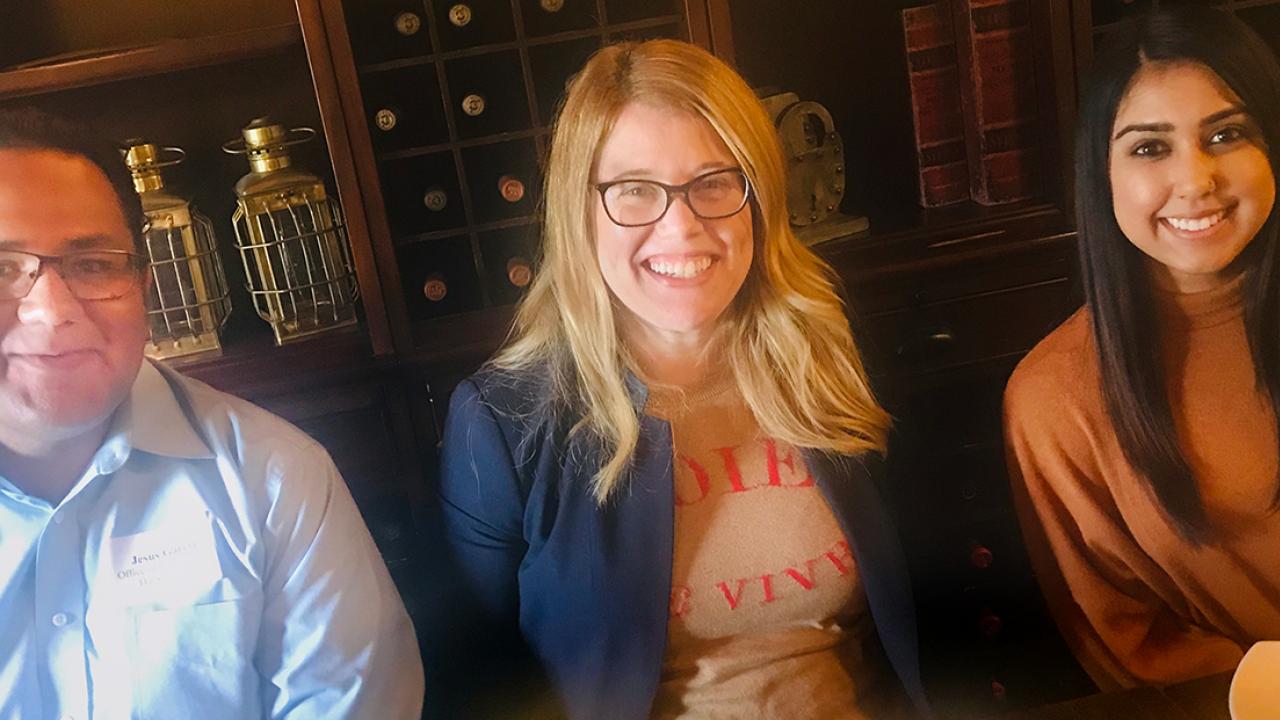 Note: You must be a part of the Washington Program to apply. 
Name of Scholarship: Lunardini-Owens Family Scholarship
Deadline: TBA
Award Amount: $1,500-$2,000
About: This scholarship was established in 2017 with a generous donation from Abby Lunardini and Nick Owens. Mrs. Lunardini was a former participant in the Washington Program.  She was an undergraduate at UC Davis and studied international relations. 
Essay: 
Submit a one-page essay that briefly answers the following:
How has your education contributed to who you are today?
State any special circumstances affecting your need for financial assistance.
Eligibility Requirements:
Any Major
2.5 GPA or above

Need is a consideration in awarding scholarships when two or more applicants have equal qualifications.
Contact: If you have any questions please contact Cheryl Purifoy, cpurifoy@ucdavis.edu
 
Quotes from Previous Scholars
Noé España
"I am extremely grateful to be chosen as a recipient of the Lunardini-Owens Family Scholarship. As a participant of the UCDC Washington Program, my number one concern was whether or not I would be able to afford to partake in an internship in our nation's capital. When I received the news that I had been chosen for an internship I knew that this was a once in a lifetime opportunity that I could not forgo."
Quarter: Summer 2019  |  Major: Economics  |  Internship: Democratic National Committee
Rachelle Fishbin
"As one of the first people in my family to attend a University and a first-generation college student, I am acutely aware of the example I am setting for my younger sisters. I decided to participate in the UC Davis Washington Program to make my family proud, and to honor the investments and sacrifices that everyone made to help me get this far. My future plans are to pursue a career as a lawyer and advocate for victims of domestic violence and sexual assault."
Quarter: Summer 2018  |  Major: Women & Gender Studies and Political Science |  Internship: Office of Congresswoman Anna Eshoo
Simran Thiara
"I'm a first generation college student pursuing a degree in Managerial Economics and two minors in Political Science and Professional Writing. My post graduate plans involve attending law school and becoming an attorney to advocate for those who cannot advocate for themselves. I eventually want to create my own worldwide non-profit for victims of war, hunger, and disaster."
Quarter: Summer 2018  |  Major: Managerial Economics  |  Internship: Keith Watters & Associates Law Firm
Claudia Quarshie
"I am a senior majoring in Neurobiology, Physiology and Behavior with a minor in Spanish. I plan to pursue a career in medicine upon graduating from UC Davis. I am currently working as a Science Policy Intern at Research!America through the Washington Program, and I have had the opportunity to advocate for health research and learn about how policy affects patient health care. Thanks to Lunardini-Owens Family Washington Program Student Award, I am able to focus more on my Washington DC experience and am one step closer to my career goal."
Quarter: Spring 2018  |  Major: Neurobiology, Physiology, and Behavior  |  Internship: Research!America
Jesus Garcia
"Thank you again for your investment in the University of California, Davis, and students like me. It is my hope to give back to the university someday and help a student reach their educational goals. My goal is to attend law school and run for office in my district CA-04 in the future."
Quarter: Winter 2019  |  Major: Political Science  |  Internship: Office of Congressman Hank Johnson (GA-04)
Category