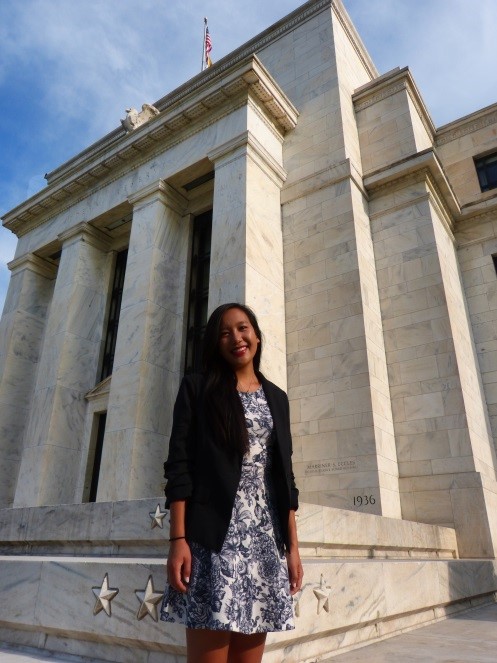 Intern at: Federal Reserve - Community Development Office
Majors: Communications and Community & Regional Development
LinkedIn: https://www.linkedin.com/in/natalie-nguyen-38323957
(You may need to be logged in to LinkedIn to view some profiles)
"My internship at the Federal Reserve has given me exposure to research for both of my majors.  I've developed professionalism in public affairs."
Natalie Nguyen knew she wanted to participate in the Washington Program even before coming to UC Davis.  She had heard about it from her older sister, who had participated through UC Davis 8 years ago and had a great experience.  The Communications and CRD double major found the perfect internship with the Federal Reserve's community development office through the UCDC's LinkedIn site, and received a phone interview the day she applied. "It was the first time they had had a community development major, and I was offered the internship immediately," she said. 
When people think of "the Fed," they typically think of banking regulation and monetary policy.  And while those are its primary functions, the community development division is focused on researching and sharing information to promote fair and informed access to financial markets for communities and individuals.   For example, recent studies have examined the impacts of crowdfunding on the community development industry; and how consumers' use of mobile financial services affects how they interact with financial institutions.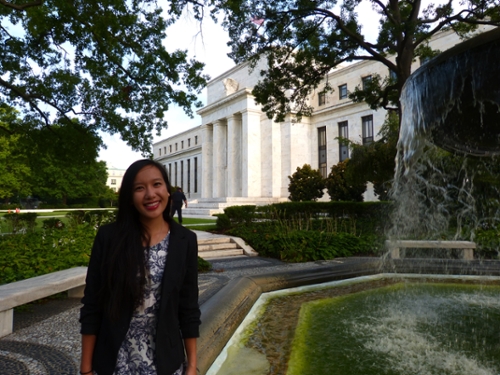 For her internship, Natalie engaged in research and analysis on how social media affects civic engagement. "Pew research indicates that people who use Facebook are more trusting of others.  That can indicate a change in attitude and engagement for young voters," she says.  Natalie also studied how communication has changed from boomers to millennials.  "It's important to make sure you're not rude when you communicate across generations."  The internship allowed her to do research relevant to both of her majors through the common goals of public affairs and marketing, as well as to develop professionalism.  One of the highlights was presenting her research for the Division of Consumer Affairs. "The Fed has a great staff; they really care about professional development for interns," she said.
Natalie is inspired by working and living in the heart of the nation's capital.  "I love the culture, the atmosphere, seeing everyone in suits – you feel like it's an important place.  It's a unique opportunity."