Intern at: Smithsonian, National Museum of American History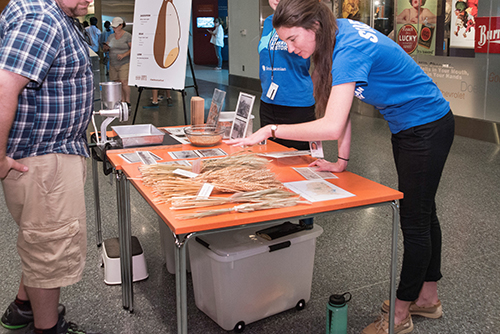 Participated in: Summer 2017
Major: History
LinkedIn: https://www.linkedin.com/in/anna-fogarty-436080124/
(You may need to be logged in to LinkedIn to view some profiles)
Why did you participate in the Washington Program?
I have always loved the history of the United States and the narratives told through history. I had worked as a tour guide in the previous summer with the Nantucket Historical Association so I was looking for a place to apply those skills and transfer to them to a larger museum setting.
Tell me about your internship – what kind of work did you do?
As a Daily Programs Intern, I spent most of time on the museum floor, engaging with visitors through a variety of topics from the production of wheat and flour to objects taken on bicycle rides in the early twentieth century to folding a life size replica of the Star-Spangled Banner. With the skills gained through these interactions, I also worked with fellow interns to develop and prototype a new program: Preservation for the Table. Through the research of a previous intern, we developed a program using the story a family farm in Maryland as a lens to a larger historical narrative of food preservation and agriculture in the United States.
Has your internship influenced your future plans?
My internship reinforced my love of history and education. After my experience with the National Museum of American History, I am confident that I want to continue in the field of historical education. While I am now leaning more towards teaching in a traditional classroom, this internship gave me a valuable skillset to continue developing historical interpretation and education.
What did you do for fun in Washington?
I walked. Washington DC is full of history, and it is all very accessible by walking or the Metro. I spent my weekends walking the city streets and exploring the many museums and monuments located in DC. Besides the National Museum of American History, the National Museum of African American History and Culture became a personal favorite of mine.
What would you tell students who are considering DC?
Do it! The Washington program is an incredible opportunity to develop professional skills and experience. Interning in DC will provide you with new experiences and so much to see and explore.