Intern at: Department of Commerce, International Trade Administration
Year: Rising Senior
Major: Double in Managerial Economics and International Relations
Where you're from in California: The best place in the world, San Diego
LinkedIn: https://www.linkedin.com/in/alextjiang
(You may need to be logged in to LinkedIn to view some profiles)
"My future plan was to always to go to the public sector after working the private sector in my early years. Working here has definitely confirmed my drive to do so and at the same time helped me establish valuable connections that will help me in the future. " 
What took you to DC? – What attracted you to the internship program?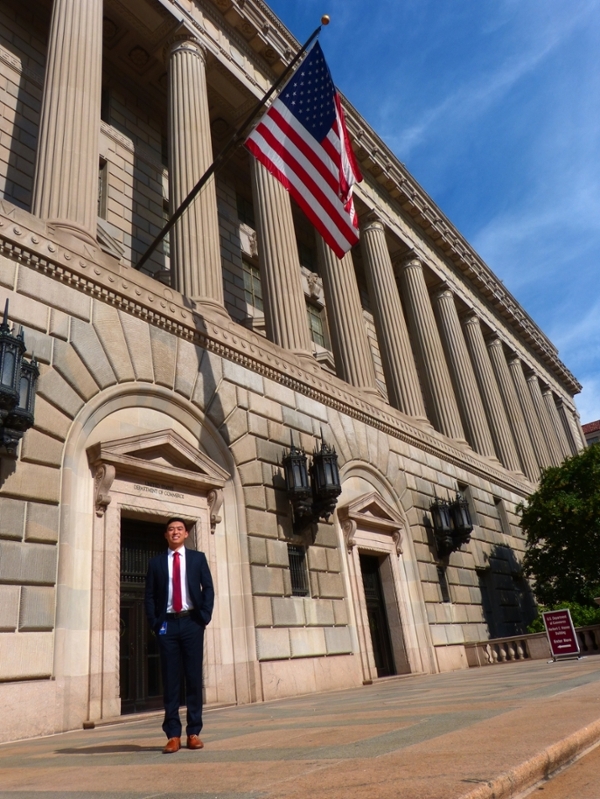 I came to DC because I thought it was a great opportunity to travel. I decided to apply for this internship program because my high school teacher recommended it. I thought it was great that I could live in the capital and experience working in the public sector. Spending 10 weeks here has opened my mind and really brought me to terms with what the working 9-5 life is like.
Tell me about your internship – what kind of work do you do?
My internship has me promoting Trade Missions here at the Department of Commerce. In the Trade Missions Program, we are taking delegations of U.S. companies and exporting U.S. products and services to international markets. I do this through multiple activities. I have client traced thousands of companies, finding contact information as well as sector, industry and company research. I have done client facing work, cold calling and discussing business opportunities with executives of countless companies, created marketing materials through emails, flyers and social media as well as reviewed financial budgets. I have vetted companies and sat in on executive trade events board meetings as well as attended weekly staff meetings. I have been lucky to have been able to do a lot at my internship, doing almost everything an employee has except lead my own trade mission. 
What have you learned in your internship?
My time here has taught me a lot. I have matured tremendously working 9-5. I have interacted with many people in the professional world; I have learned to adapt to each person I communicate with, from taking rejection to helping them to succeed. I have learned 9-5 takes a serious toll on the body (it deteriorates your mind and soul) and the jump between college and the "adult" life isn't necessarily a knowledge gap but rather a social atmospheric change.  
Has your time in DC influenced your future plans?
My future plan was to always to go to the public sector after working the private sector in my early years. Working here has definitely confirmed my drive to do so and at the same time helped me establish valuable connections that will help me in the future.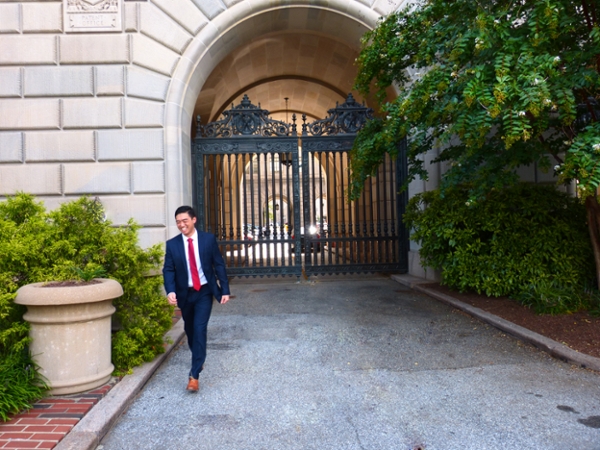 What do you do for fun in Washington?
Washington is an extremely lively place for young people. There are things to do every day. Intern networking events are always available. Many think tanks also schedule events where very prestigious leaders come to talk...they sometimes serve food. If you plan your week out well enough free dinners are always an opportunity. The museums and memorials are amazing as well. Seeing them in all their glory really shows how majestic the buildings are. The Vietnam memorial is my personal favorite, with your own reflection in the memorial the atmospheric silence that seems to be cast on the public will be something you always remember. 
What would you tell students who are considering DC?
Constantly network and make good connections. The people here are all driven and intelligent. Make the best of it when you're here!