Washington Program Information and Resources Related to Coronavirus
Dear Washington Program Students:                                                                                                             
We understand that you have many questions and concerns related to the effects of COVID-19, or coronavirus, on the Washington Program. We are remorseful that you may be experiencing any physical, mental, or emotional stress as a result of this situation. In order to alleviate some of your concerns, we have compiled the following resource list for your use. Our staff is working remotely to ensure that your needs are fully supported. If you are unclear about any of the information provided, or have any other questions, please feel free to contact us at washingtonprogram@ucdavis.edu.
Table of Contents
Program Updates
Spring 2020 Program: Cancelled
Summer 2020 Program: UCDC Center Housing Cancelled (Virtual internships available)
Fall 2020 Program: Program is being monitored but is not affected at this time
Housing Resources
Stable housing is a primary concern for all students. If you do not currently have access to stable housing due to the unpredictability of the coronavirus, please refer to the following resources.
Aggie Compass: https://aggiecompass.ucdavis.edu/housing-security:
The Aggie Compass is a comfortable space for students to receive help and resources about housing, food, and financial security, as well as mental wellness.
Facebook Groups:
Websites:
Additional Resources:
Financial Security
We understand that students may be facing financial stress as a result of the coronavirus. If your workplace or personal income has been affected by closures related to the coronavirus, please utilize the following resources.
Aggie Compass: https://aggiecompass.ucdavis.edu/financial-security
UC Davis Economic Crisis Page: https://financialaid.ucdavis.edu/wellness/ECRT
Short-Term Financial Resources:
UC Davis Financial Aid:
Refund Policies for Major Airlines:
Please be aware that due to the coronavirus, many airlines have waived cancellation fees for non-refundable tickets. UCDC is currently working with the Office of the President to explore the possibility of reimbursing students for cancellation fees. Students will be notified directly by email when we receive any new updates about this.
Courses and Internships
Internship and Career Center (ICC): https://icc.sf.ucdavis.edu/find/internships/find
Cross-Campus Enrollment:
https://crossenrollcourses.universityofcalifornia.edu/?home_campus=4&term_year=3-2020&sort=campus_name
Food Security
If you or someone you know is facing any food insecurities as a result of the coronavirus, please refer to the following resources.
Reference Websites
Free/Reduced Cost Food Programs
Financial Support Programs
Facebook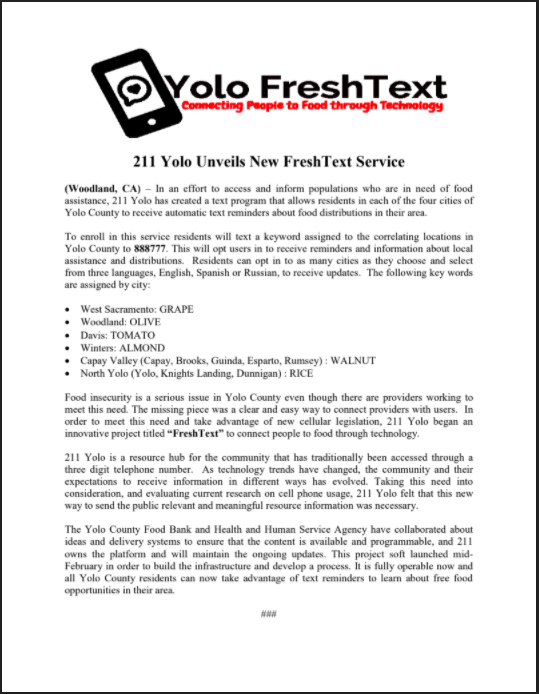 Mental Wellness
We understand that students may feel an increased level of stress as a result of the spread of the coronavirus. During this sensitive time, we highly encourage you to actively seek the help you need. Remote UC Davis mental health resources are available to students for short-term counseling, and crisis hotlines are available for students experiencing emergency situations.  
On-Campus Resources
Student Organizations
Community Resources
Crisis Hotlines
Yolo County Mental Health Crisis & Access Line: (888) 965-6647
The Crisis Text Line: Text "RELATE" to 741741
National Suicide Prevention Lifeline: 1-800-273-TALK (8255)
UC Davis Medical and Mental Health: 530-752-2300 (After hours: 530-752-2349)